Newsletters
November/December 2008
A New Look

Thanks to the Manager, Simon Graham, and the staff of the China Tee Club, a wonderful service and spread was provided for a fantastic evening that was enjoyed by all at the cocktail opening of Postcards From Macau.
The exhibition, by Australian photographer Nick Gleitzman, gave a 'new look' to the Club and was enthusiastically received by the many guests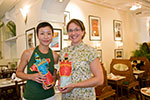 who enjoyed the evening with great conversation, and a glass of wine or two to accompany the delicious canapés from the Club's kitchen.
View photographs from the opening night here.
Congratulations to the two winners of the lucky draw prizes, Gretchen So and Fleur Iannazzo. Many thanks to Adelaide Cellar Door for generously supplying the bottles of premium red wine.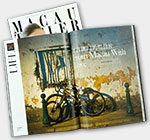 Postcards From Macau featured in Macau Tatler
We are pleased to announce that Postcards From Macau will be featured in the winter issue of Macau Tatler, so if you and your friends haven't had a chance to visit the Club and view the prints yet, be sure to get a preview when the new issue of the magazine hits the newsstands in late November.
SPECIAL ANNOUNCEMENTS
SPECIAL OFFER

10% discount for all China Tee Club members on all print orders placed at the Club.
JOIN THE CHINA TEE CLUB AND WIN

Membership of the China Tee Club costs just HK$1000 – but on joining, you will receive ten $100 vouchers that can be redeemed towards the cost of dining at the Club, so membership is really free!

Be one of the first three people to join by contacting Hongkong Select and WIN A BOTTLE OF WINE!
SAVE ON

PALIMPSEST

PRINTS

Generous discounts are now available on print orders from Nick Gleitzman's Palimpsest exhibition at the American Chamber of Commerce in Hong Kong. Viewing is by appointment only, which can be arranged by contacting Annie Ip on 8200 4897 or annie@hongkongselect.com.
YOUR PURCHASE IS ALSO A GIFT

From now until the end of the year, a proportion of the proceeds from all print sales from both exhibitions will be donated to Operation Santa Claus, the annual charity campaign jointly organized by the South China Morning Post and Radio Television Hong Kong.

The charity raises money for a range of worthy causes in Hong Kong, with particular focus this year on donations to help rebuild the earthquake-devastated Sichuan province.

Visit the Operation Santa Claus website for full details – and make a donation while you're there!
YOUR CHANCE TO WIN

Subscribe with us at Hongkong Select to receive news of exciting upcoming events, special offers, and to be eligible for entry into lucky prize draws.
Back to Newsletters index
Copyright © 2008 Hongkong Select
Prints of this panoramic photo, Hong Kong City Lights, are now available for purchase.
See more prints in the series.