Advertise with us.
Promote your business with banner advertisements and inclusion in our email newsletters.
Banner ads: 250x70 pixels
Banner advertisements
Cost: HK$350 per calendar month. Ads placed for six consecutive months attract a 10% discount.
Size: 250x70 pixels (see illustration at right).
Materials: Supply us with a jpeg, tif, gif or eps file to the specified size, or we can create your banner for you (additional fees apply).
Link: Your ad can be linked directly to your own web site, or to a pdf file hosted on our site or yours. We can help with the design and production of a custom pdf promoting your business, for additional cost; please enquire.
Email newsletters and announcements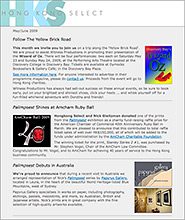 Promote your business, announce your special event, or make special offers via our targeted emails.
An article in one of our e-newsletters costs HK$650. Articles include up to 200 words, a photo or graphic (approx. 150x100 pixels), and a link to your own web site, or to a pdf file.
Dedicated mailouts, specific to your promotion and tailored to your requirements, are also available. Fees are quoted on a project-by-project basis. Please contact us if you are interested in this service.
Copywriting, editing and photographic services are available if required to enhance your business message. Please enquire.
Copyright © 2008-2021 Hongkong Select
Prints of this panoramic photo, Hong Kong City Lights, are now available for purchase.
See more images in the series.