Newsletters
November/December 2009
The Gift of Giving
During November, we're offering a 10% discount on all sales and orders of Nick Gleitzman's beautiful photographs, including his new range of Hong Kong Panorama prints. We're involved with a number of events being staged by charitable organisations over the coming weeks, and your discount will contribute to the donations we'll be making to these charities.
Read on to find out where and when you can buy or order prints, and give to these worthy causes while saving on your Christmas gifts!

Hong Kong Panorama

Introducing a new series of stunning panoramic images of Hong Kong by award-winning photographer Nick Gleitzman.
Hong Kong Panorama prints make ideal Christmas gifts to send overseas, or fantastic souvenirs of your visit to Hong Kong. Prints are available in two sizes (24 and 40 inches wide) and two grades (Standard and Premium), and prices start at just HK$900 – even less with the 10% discount we're offering during November. The prints really have to be seen at full size to be fully appreciated. Please come and visit us at the events listed below, where you can buy or order prints – and give to a worthy cause at the same time.
Visit Nick's website to see the whole range of Hong Kong Panorama prints, for full information, and an online order form.
SPECIAL OFFER for HKS Newsletter readers: if you can't make it to one of the events, you can still SAVE 10% by ordering prints online – and for every print ordered, we'll make a donation to Operation Santa Claus. Just quote the special promotion code hksnl1109 when you order prints online before December 1.
American Women's Association Charity Fund

The American Women's Association of Hong Kong (AWA) is an organization of international English-speaking women from over 35 countries. A non-profit organization, the 2009-2010 goal of the AWA is to donate $800,000 to local charities and educational institutions – often not well known, without the benefit of media coverage, and who depend solely on the generosity of others to help in the pursuit of their mission. The AWA proudly and compassionately gives all the proceeds from their fundraising efforts to others, and asks your support only for the wellbeing of our needy and less-fortunate neighbors.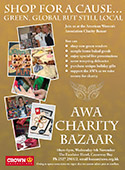 The annual AWA Charity Bazaar will be held at the Excelsior Hotel in Causeway Bay on 4 November, 2009, from 10am until 6pm. Come and stroll through dozens of stalls displaying products ranging from the most popular to the unusual and unique. Get your Christmas shopping off to a great start – and give to the AWA Charity Fund at the same time.
The AWA Education and Scholarship Fund Drive kicks off on 1 November and, as well as accepting monetary donations, we are offering Cantonese classes, fortune telling and palm reading by a renowned celebrity, and cosmetic make-up makeovers by a technician to the rich and famous. Registrations for any of these events can be made by emailing info@awa.org.hk or via the AWA website.
LOOK FOR the Hong Kong Panorama flyer in your AWA Bazaar shopping bag. It contains the special promotion code you'll need to qualify for 10% discount when ordering prints online – and for every print ordered, we'll make a donation to the AWA Charity Fund. Numbers are limited, so be early!
Picnic in The Park
Discovery Bay's live music and dance festival
On Saturday, 7 November, Witness Productions, in conjunction with Discovery Bay City Management, will stage the fourth annual Picnic in the Park at Siena Park.
This family fun day will again generate a huge amount of interest from residents and their friends and once more will be the largest and best attended event in Discovery Bay. Local bands and dance groups will entertain the audience from 11am to 9pm, with bouncy castles and entertainment to delight our younger visitors. And for the grown-ups, there will be catering and refreshments provided by DDeck restaurants.


As a registered non-profit society, Witness Productions aims to raise money for local charities while providing wholesome family entertainment and a learning tool for the community. All proceeds from Picnic in The Park will be donated to the Hong Chi Association, which runs 64 service units serving some 6,000 people of all ages and all grades of mental handicap and their families, and the Hong Kong Student Aid Society, which provides a wide range of services for 1,500 children, aged from 0 to 21, who come from less fortunate families.
Come and see us in the Christmas Market area behind the main stage, where you can buy or order Hong Kong Panorama prints, with a 10% discount off the retail price on the day.
International Food Fair at
Discovery Bay International School
Discovery Bay International School is holding its 21st annual International Food Fair on Saturday, 21 November.
All your old favourite activity stalls will be back – including Candy Floss, Fishing for Treasure, and Face Painting – alongside some new fun. The main stage and pitch will be bustling with entertainment from well loved DB groups and companies throughout the day, with up to 20 International Food Stalls close by to keep you happily munching your way around the world. The Fair runs from 12 noon until 4pm.
We're donating a 40" print of Discovery Bay, to be raffled at the Fair. You'll find Hong Kong Select in the Hall, where you'll be able to buy or order Hong Kong Panorama prints. Be sure to pick up your Welcome Bag on entry to the Fair to get 10% discount off the retail price on the day.
The Children's Institute and The Harbour School invite you to their 6th annual
Charity Wine Tasting
At 6.30pm on Friday, 20 November, at The Helena May Wine Garden, 35 Garden Road, Central. Tickets are HK$500, with all proceeds going to TCI and THS programs.
The Children's Institute, a non-profit school established in 2003, was the first in Hong Kong set up solely to educate children who fall within the Autism spectrum. A large percentage of these children can be completely mainstreamed into a typical education setting and become indistinguishable from their typically developing peers through early learning intervention and therapies.

The Harbour School is a non-profit international school with a mainstream curriculum offering individualized learning programs to focus on the strengths of each child while also identifying and supporting any Specific Learning Difficulties (SpLd's).
The continued ability to provide the small classes in which these children thrive is dependent upon the continued support of donors and benefactors. Your gift will help to change the life of one child, and the futures of many.
For more information, please visit The Children's Institute and Harbour School websites.
We're donating a 40" print of Hong Kong City Lights, to be auctioned or raffled on the night. We're also offering a 10% discount on prints ordered by attendees of the event – see our flyer in the gift bag for details.
Save and Give with Postcards from Macau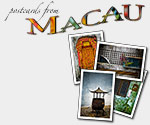 Looking for something different – and special – for a Christmas gift this year? Postcards from Macau prints are the ideal choice. As a special offer to China Tee Club members, we're offering 10% discount on the price of prints ordered before December 1.
And you'll be giving twice: for every print ordered, we'll make a donation to Operation Santa Claus, the annual charity campaign jointly organized by the South China Morning Post and Radio Television Hong Kong. Visit the Operation Santa Claus website for full details – and make a donation while you're there!
Visit the China Tee Club to see the exhibition, and ask for an order form.
Join the China Tee Club and WIN



Not a China Tee Club member? Membership costs just HK$1000 – but on joining, you'll receive ten $100 vouchers that can be redeemed towards the cost of dining at the Club, so membership is really free!
Be the first person to join by contacting Hongkong Select and WIN A BOTTLE OF WINE!
Congratulations to Margaret Oehmke, the new President of the American Women's Association (top), and Martine Porter, from the Australian Consulate, who have recently joined the Club and received a bottle of premium wine to celebrate their membership. The lucky winners are pictured with Annie Ip of Hong Kong Select.
The China Tee Club is open for lunch, afternoon tea, and dinner. Opening hours are:
Lunch 11:30 am to 3:00 pm
Afternoon Tea 3:00 pm to 5:30 pm
Dinner 6:30 pm to 9:00 pm
Closed Sundays and Public Holidays
Telephone: 2521 0233
Email: enquiry@chinateeclub.com.hk
Your Chance to Win

Subscribe with us at Hongkong Select to receive news of exciting upcoming events, special offers, and to be eligible for entry into lucky prize draws.
Back to Newsletters index
Copyright © 2009 Hongkong Select
Prints of this panoramic photo, Hong Kong City Lights, are now available for purchase.
See more prints in the series.