Events
Palimpsest at The Rotunda, Exchange Square, Hong Kong, 15–20 July 2008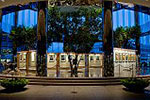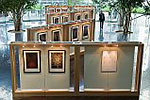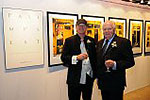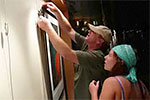 exhibition photos reception photos installation video
Award-winning photographer Nick Gleitzman visited Hong Kong for the first time in July 2007, and, struck by the many evident contrasts here, went about recording his first impressions of the transience, the impermanence, that exists at the fringes of the development of the modern city. He found and photographed fragmentary evidence of past stories, suggestions of layered information, and, using digital imaging technology, turned them into powerful graphic images that provide a personal insight into the recent – and not-so-recent – history of the city and its people.
Palimpsest, an exhibition of approximately sixty 24x36 inch prints, was first shown at The Rotunda, Exchange Square, from July 15-20, 2008, launched by guest of honour Mr. Les Luck, Australian Consul-General to Hong Kong and Macau.
Following its debut at The Rotunda, the exhibition was displayed at the offices of The American Chamber of Commerce for a period of six months.
Palimpsest at The Rotunda was supported by
Visit the artist's web site: nickgleitzman.com
Back to Past Events
Copyright © 2008-2021 Hongkong Select Organising Solutions